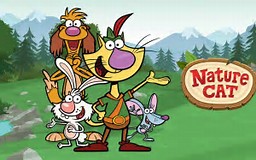 This cat is not your ordinary, run-over-the-mill house cat. This is Nature Cat, who is adventure-filled and fearless (except for water). He and his friends Hal, Daisy and Squeaks go on exotic adventures for all kids of all ages.
Rating: TV-Y7
Subcategories
This category has only the following subcategory.
Pages in category "Nature Cat"
The following 5 pages are in this category, out of 5 total.