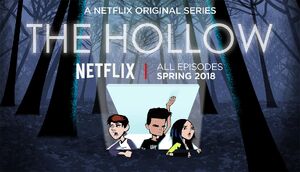 Overview Edit
The Hollow is a Netflix Original Series created by Vito Viscomi, Josh Vepham, Kathy A. Rocchio, and Greg Sullivan that follows the adventures of Adam (voiced by Adrian Petriw, who also voiced Ken in Barbie: A Fairy Secret), Mira (voiced by Ashleigh Ball, who also voices Applejack and Rainbow Dash in My Little Pony: Friendship is Magic), and Kai (voiced by Connor Parnall, who also voiced Shu Kurenai in Beyblade Burst) as they make it through a series of puzzles to try and get back home, which they have no memory of.
CharactersEdit
Main:
Adam: Adam is the unofficial leader of team Adam, Kai, and Mira. He has the power of super strength and is a very good fighter. He is a Latino male, no older than 16-17. His appearance consist of a dark shirt with The Hollow symbol in white on the front, greenish cargo pants, dark sneakers, and black hair stacked up high on his head in a rectangular shape. Adam is a level headed person and is always looking out for the well being of his friends, though he has been known to crack under pressure.
Kai: Kai was the last of the main three to get his powers. He has fire powers and is very good at fixing things. Kai is a white male teenager, appearing to be the same age as Adam. His appearance consists of a white shirt with blue sleeves and a black color, blue denim jeans, brown boots, and red-brown hair. Kai is a silly person and is easily manipulated due to the fact that he trusts too easily. Though he makes many mistakes while in The Hollow, he has shown determination and a willingness to do whatever it takes in order to help others, especially his friends.
Mira: Mira is the only girl on the main team. She has the ability to not only talk to and understand animals, but to also breath underwater and has amazing swimming skills. Mira is an Asian-American female, around the age of 16 or 17 (similar to her teammates). Her appearance consists of a teal and green sweatshirt with three quarter sleeves, under that a white shirt, black legging with pink stars on the side, pink sneakers, and black hair with the top layer cut in the middle and light blue highlights on the short part's tips. Mira is smart and reasourceful, she never loses sight of their goal. Though she is seen at times losing control of her emotions.
As of late 2018, there has been no confirmation of a second season. Although if they do intend for a season two, it would most likely air in the summer of 2019.
Though this show does not have a large fandom, it has produced some fan theories. The most popular being that Adam is part of the LGBTQ+ community.
Like stated above, this show has a small fandom. Though it is small, you are still able to find some fanart, edits, ships (most popular is Kai x Adam or Kaidam) and therefor fanfics. The series has a total of 47 fics on AO3, some including up to 13 chapters. The longest has a word count of 42,764 words and 172 kudos.